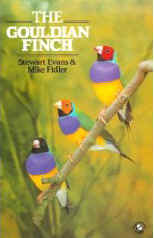 This book, launched in April at the Finches '05 Convention in Brisbane, seeks to update Evans & Fidlers 1986 book of the same name. However, it does far more than just update it, this new book moves to a new level. Time has moved on considerably in terms of research in the field and breeding methods in captivity and this book reflects the increased knowledge that the authors now have.
Section 1 takes us through the history of the Gouldian Finch, including the development of its name, and ends with a chapter on ultraviolet vision. This is followed by a Section on the Gouldian Finch in its natural habitat and the threats to its continuing existence and concludes with the research projects currently underway at three sites including Mornington Wildlife Sanctuary in Western Australia, which is close to Mike's heart. This brings together Mike and Stewart's considerable experience of studying this wonderful bird in its own backyard. The depth of knowledge that we now have is due to these gentlemen, their colleagues, volunteers and locals who all want to do their little bit to contribute to its conservation. Having been lucky enough to spend some time in the Kimberley's with Mike I particularly enjoyed this section.
Section 3 covers the Gouldian Finch in captivity and reflects the increased knowledge that has been gained on the birds' habits and requirements in the wild and the understanding that for best results these need to be replicated in captivity. Some photographs of Mike's aviaries at his new home in Australia compliment this section. A chapter on health and diseases that can be understood by everyone from the beginner to the experienced aviculturist can also be found in this section. One of my favourite chapters is on observing your birds – a subject that I consider is very important if you are to truly understand your birds, but is rarely covered in books. This chapter, and indeed the whole book, is enhanced by some excellent drawings by Russell Kingston.
Section 4 is on mutations and genetics and contains some wonderful photographs of the many colours that the Gouldian now occurs in together with their history and how to breed them. The book concludes with a section on contributing to bird conservation – something that we should all seek to do no matter what species we keep.
If you are interested in Gouldian Finches or indeed any Australian Finches this is one book that has to be on your bookshelf. It is sure to become the definitive guide to the Gouldian Finch.
The Gouldian Finch by Stewart Evans & Mike Fidler is published by INDRUSS Productions. 240 pages, illustrated by over 100 colour photographs and numerous drawings. ISBN 0958561214